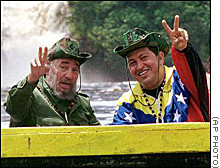 Larry and Moe practice poking eyes as they await the arrival of Curly on the set of their new film, "Tres Pendejos". Moe, on the left, screams, "I'll moider you", while Larry, on the right, wonders, "What's the big idea?"!
Cuban President Fidel "Moe" Castro said that his country is "invulnerable" to a military invasion, while taking part in a meeting to evaluate the results of military exercises with Venezuela, called Bastion-2004, the "most fruity exercises that I have ever witnessed," he said on Tuesday.

"If someone comes here to try and snatch the mother country from us, they will bite the dust," said "Larry"Chavez, during Sunday radio and television program, "Hello, Mr. Porcupine."
Nyuk, Nyuk, Nyuk.